<![if !vml]>

<![endif]>
<![if !vml]>

<![endif]>
SHOTGUN SOLUTION, started life in 1996, under the original name of, THE ACCIDENTS, and had only played an handful of local gigs, before going into the studio, to record their first demo, simply, yet suitably called, 'Oi! It's The Accidents'. The next two years saw many changes to the bands line-up, and even more performances at local gig's, before they made their way back into the studio, to record their first CD, 'We're Coming To Get You', which was soon followed, by a tour, with THE BLOODY SODS from the US, as well as the odd gig with the likes of THE WARRIORS, and GUNDOG along the way. Thing's were certainly looking good for this Rochdale based band.
2001, saw two dramatic changes for THE ACCIDENTS, firstly with a big turn around to the bands structure, when Vocalist, Guitarist, & Drummer, all decided to go their separate ways, leaving the band with just two members, and that's the way it stayed, until Budda G took his place at the drum kit, to make up the line-up as it is today, and almost immediately, the three-piece took to the studio's to record a version of 'Fluffy Pup' for the up & coming MACC LADS tribute CD, and haven't looked back since.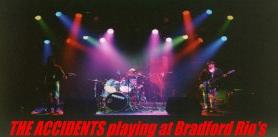 The second major change to the band, was obviously their name. As the band now had loads of new material, and rarely ever played the older stuff, they felt that there was no need to carry on under the name of THE ACCIDENTS, and so SHOTGUN SOLUTION was born.
So What Now..? Well, SHOTGUN SOLUTION have been in the studio yet again, this time to record another demo, entitled 'Resolved', and are currently sending copies to numerous record companies, in the hope of finding some one with an interest in signing them, though with the positive response that the band have received following those major changes, we don't think it will be to long before someone comes along with an offer.
THE BAND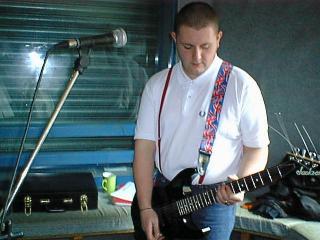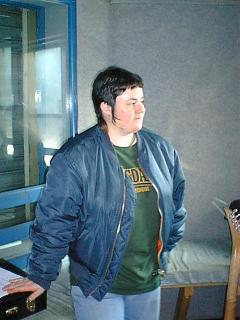 NAT - Bass and Backing Vocals
EDDIE - Guitar and Vocals Budda G - Drums and Backing Vocals

If you are interested in booking Shotgun Solution for a gig, or maybe have information on Record Companies who may be interested in signing the band, then give them a call on +44 (0) 1706 346114 / +44 (0) 8707 517464, or contact them by e-mail, using the link below.